Since helping Derek & Genevieve with their New Year's Eve wedding ceremony and reception at the Turning Stone Casino Resort we've been glad to call them friends, and tonight we wish them a happy anniversary.
Looking back at their wedding photos, we found this one image Genevieve emailed to us months before their big day, asking… "Is there any way you can create a moment like this for us at our wedding? I LOVE this photo!" Here's the picture she sent: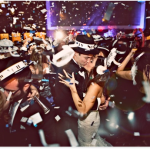 Given the fact many ballrooms restrict the use of confetti cannons and/or will charge a clean up fee, it's important to confirm the venue's policy.  In this instance, we were able to win management's approval once they learned our confetti does not require the use of CO2 and is vacuum friendly.  That evening as the clock approached midnight we coordinated with photographer James Bass and set our plan in motion:
-Determine which angle will give James the best vantage point and backdrop (check!)
-New Year's Eve party hats and noise makers distributed? (check!)
-Dance floor filled with guests partying like it's 1999? (check!)
-Newlyweds in a good spot to allow for a great photo? (check!)
-Confetti strategically placed and ready to be launched? (check!)
-Photographer in position on step ladder, ready to document the moment? (check!)
-Digital clock with seconds display synchronized? (check!)
-Countdown and first song of the New Year ready to go? (check!)
And 3, 2, 1…
We hope this photo immediately transports them back to that magical night for the rest of their lives; we'll think of them every New Year's Eve for the rest of ours.