With all of the NCAA hoopla going on this past weekend and tonight, we couldn't help but think about Amy and John's wedding.
They met on a Lacrosse field where John was officiating and Amy was coaching. Amy delivered the best pick up line in the history of EVER…."Hey Ref! You made some pretty good calls tonight…wanna make one more???" (Yes, that really did happen and Amy is our hero. Now you know why we loved her the minute we started talking on the phone). Eight years later they were married in the Lourdes Chapel on Skaneateles Lake, and a beautiful tented reception followed.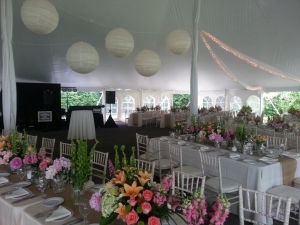 Sports have always been a BIG part of their lives, and they are huge SU Basketball fans. So much so that John made a hefty bet on the SU vs Michigan game with his cousin-in-law, Alex, who is a Michigan fan (boo!). The loser would have to sing the winner's fight song…at the wedding!
Sadly SU lost, and to John's credit he delivered on his promise to sing the Michigan Fight Song…in front of their 200+ wedding guests. THIS is what happened next….
Otto wasn't havin' it. He came from the SU Hill all the way to Skaneateles in order to put a stop to the Michigan madness. This is ORANGE Country!!!
Helping Amy surprise John and all of their friends and family with an Otto appearance was such a thrill. Here it is nearly 2 years later and we're thinking about them tonight because the NCAA Championship game is on. Neither SU or Michigan is playing, but we hope this wedding day memory still gives Amy & John reason to smile every year come NCAA time! Go Orange!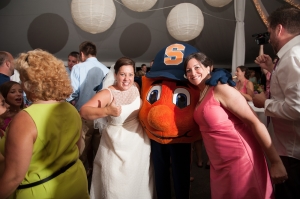 Need help with a surprise at your wedding? Let's make it happen!
A couple of the above photos were captured by camera phone; the more professional ones are thanks to Laure Lillie Photography!