We have the honor of helping couples celebrate their marriages. It usually happens on the same day that they've exchanged vows and rings and comes in the form of a wedding reception. Not this time…
This time we celebrated a marriage 50 years later. Let that sink in. Bruce & Marge have been married for FIFTY years. Did you know that only 5% of married couples will reach their 50th anniversary? But that's only part of what makes their story special.
Not only did they raise 2 daughters (who now have beautiful families of their own), over the years Bruce & Marge provided sanctuary to 13 foster children. They opened their home and their hearts in order to give guidance and nurturing to children who might not otherwise have either. THIS is love.
In the photo above, do you see the gentleman in the background who is gazing on fondly while Bruce & Marge share their 1st dance of the evening?  In spite of the weather, he drove from Connecticut in order to be here with them for this celebration. He's the same friend who proudly stood by their side as the Best Man on their wedding day. A friendship that spans miles and years. THIS is love.
And then there is Bruce & Marge…wedding cake playfulness one minute…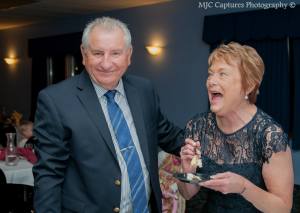 … and two hopeless romantics the next…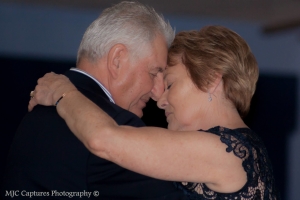 Yes, without a doubt, THIS is love…for fifty years…for "A Thousand Years"…for always.
Images by MJC Captures Photography